example image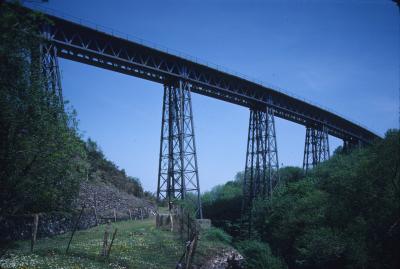 Name: Meldon Viaduct (view items)
Industry type: Transportation
Industry: Railroad
Country: Great Britain
State/County/Province: Devon
City: Okehampton
Start year: 1874
End year: 0
Company: London & South Western Railway
Notes: The Viaduct is located some 2 miles south-west of Okehampton, adjacent to Meldon Quarry.

The first viaduct was erected in 1874 under the direction of W R Galbraith, Consulting Engineer to the London & South Western Railway, to carry the single track Bridestowe and Lidford (now Lydford) line of the Devon and Cornwall Railway across the West Okement river valley.

The wrought iron and cast iron structure is made up of six equal span warren trusses of ninety feet on five lattice trestles, of which the largest is one hundred and twenty feet tall, tapering significantly from base to apex.

In 1878 the line was doubled and a second, broadly similar structure was erected to carry the new Down line with the Up line crossing on the older spans. The two viaducts were linked by extending deck members with bracing between the tops of the trestles, although the lower stages of the trestles were simply interlaced without connections above their common foundations.

The end spans of both viaducts sit on cast iron sliding bearings on concrete filled cast iron tubes which extend to depths of between fifteen and fifty six feet immediately in front of the abutments.

In spite of the fact that only four years separated their construction, there are a number of significant differences between the structures, most notable being the trestle construction. Although both sets of viaducts use the same Hughes patent piles in their legs, the cross bracing of the older trestles is slender wrought iron rod, compared with the more robust looking angle bracing of the later trestles. This remained the case until the 1960s, when the heavy additional bracing seen today was added.

The bottom chords of the trusses also differ in their construction, the later ones having greater lateral stiffness, although the older trusses were modified in later years to enhance their lateral stiffness. The whole of the viaduct was decked with 3 inch timber planking with large timber balks running longitudinally under the rails.